New names for our Business Products
As of January 1, 2022, the names of our activities have changed. These new names are evolving to be more representative of our strategies and, with the change of our graphic charter in 2021, they are part of our will to reinforce the visibility of our products and the potential associated with the skills of the Defontaine Group: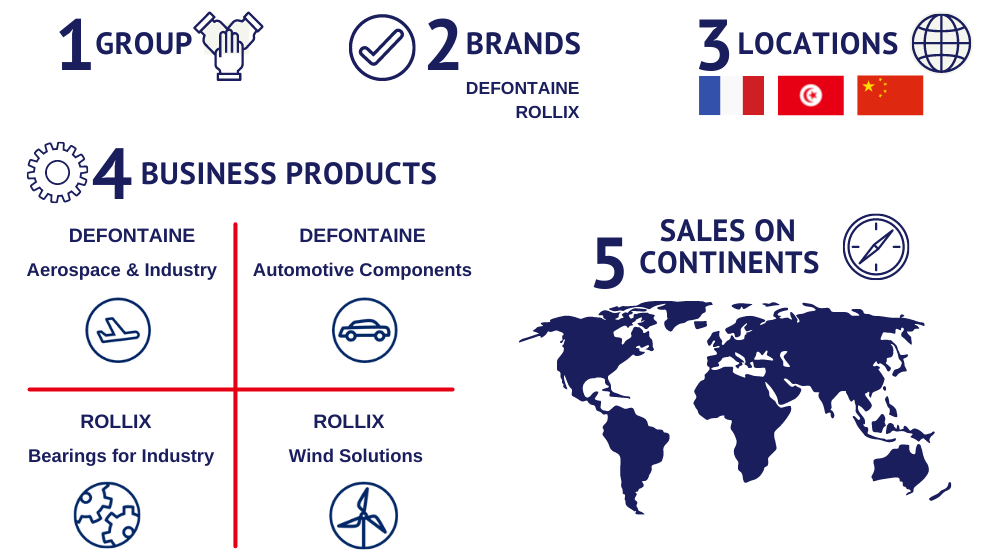 Defontaine Automotive Components: The automotive industry is undergoing a major and rapid transformation with the acceleration of electric motors. The previous name no longer suited the market we wanted to address, particularly E-mobility. We have chosen the generic term "Automotive Components", which includes motor components such as starter rings, flywheels and inertia rings, as well as other automotive products we intend to include in our portfolio: helical ring gears, transmission components, …
Defontaine Aerospace & Industry: We were already doing much more than flanges for aero-engines. The new name allows us to encompass all of our current products (helicopter housings, nacelle flanges, KSB, …) and to support our development strategy in the non-aeronautical industry, while including truck crowns.
Rollix Bearings for Industry: Rollix Bearings for Industry better represents our presence in the industrial market, which we promote through our various business units, 1500 customers and hundreds of applications worldwide. By doubling the number of references in the standard range up to 6 metres, we are also increasing the industrial targets we address. Finally, this name change goes hand in hand with the implementation of the new KAM (sales representatives in charge of large accounts) / SAM (sales representatives in charge of small accounts) sales organisation, which allows us to better address the diversity of our customers.
Rollix Wind Solutions: The wind energy market has evolved a lot in the last 10 years, the sale of spare parts has gone from 1 to more than 10 million euros, and we now add to the sale of crowns the sale of services, expertise, inspections, retrofits, and components around the crown such as bolts. Thus, the service completes the component offer and allows us to propose a more global and attractive solution to customers by simplifying their life.
4 January 2022