Our experts will provide advice and offer technical support to find the spare blade bearing adapted to your needs.
Rollix is the leader in this technology, and offers a very large stock of spare parts for the industry and for all wind turbines manufactured worldwide: Vestas / Siemens Gamesa / GE / Alstom, etc.
Let us know how we can help you, we will be happy to answer any questions.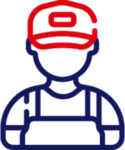 Responsiveness of
our teams

Availability of
our products