A new website!
Available in English and French, the Defontaine Group's new website has been completely redesigned in regards to the group's image. It marks an important new step in its customers and prospects support.
The website focuses on the products, the group's values and the its fields of application.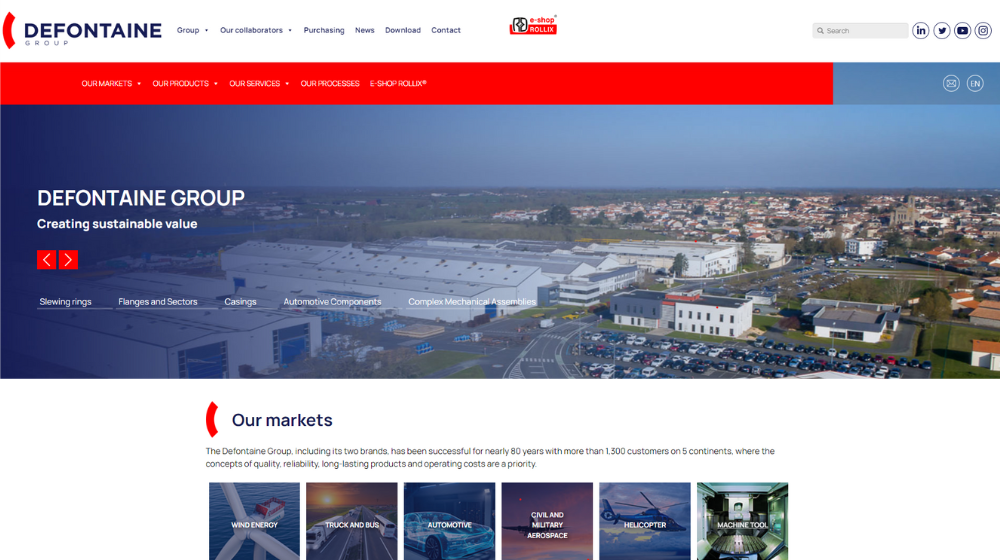 Eric Jacquemont, President and CEO of the Defontaine Group explains: "Our prospects, customers and visitors are looking for concrete information and products to develop their activities. Our new website aims to bring together high value content for an optimised understanding of our products and markets."
A website designed for its visitors
Prior to the creation of the website, specifications have been drawn up on specific themes: strategy, communication, design and technology. The website designed offers visitors an optimal browsing experience. It answers their questions by market and by product. Visitors can clearly identify the Defontaine Group's offer and its markets of application. They can find all of the group's services and know-how.
The redesign of the website means that we can now offer a site with more intuitive ergonomics and a resolutely modern design for an optimised user experience. Fully responsive, the new site adapts to all screens and all terminals, offering visitors a fluid and consistent experience on all systems and terminals.
Previously, Defontaine Group had 3 separate websites, www.defontaine.com, www.rollix.com and b2b.defontaine.com. The new website allows the group and its brands to have a unique entry point as sources of information. The website becomes a group website presenting all its areas of activity and all its products. The Rollix e-shop has also been integrated and simplifies the purchase of slewing rings.
In terms of functionalities, a double menu has been developed. The first is dedicated to group information and human resources. A dedicated download area has also been set up for all business and technical tools. The second menu provides detailed information on markets, products, services and processes. And of course, the website is optimised for search engine optimisation! A special place has been reserved for pictures to reflect the company's image.
A website that looks like its employees
The human values of the Defontaine Group are an integral part of its strategy. Key words of the human Resources department are to recruit, support and develop skills. Within the Defontaine Group, the teams are involved in offering the best of themselves: to their colleagues and to their clients. These values of "working together" create themselves value, collaboration and support. This is naturally reflected in the website, offering the necessary transparency for a long-term customer relationship. Thus, the group's baseline "Creating Sustainable Value" is not an empty word.
As for the digitalization strategy, it is based not only on the website but also on the development of Defontaine Group's visibility on social networks and its employer branding. Social networks are widely used by employees, prospects, clients and future employees. Therefore, the website highlights its social networks.
We wish you will enjoy this new website as much as we do! We will be pleased to have your feedback via the "Contact us" page.
12 May 2022